News
Update of COVID-19 Related Tax Extensions
The CRA has updated its table of payment and filing extensions. Please note that, contrary to the date mentioned in the government's prior release about extensions, tax payments for many entities are now confirmed to be due "by September 1, 2020" rather than "After August 31, 2020". Of important note is the fact that…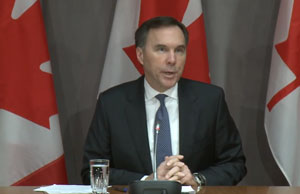 COVID-19: CRA filing deadlines and payment dates extended: details below:
Canada's-COVID-19-Economic-Response-Plan-Support-for-Canadians-and-Businesses
Join Cadesky partner Dean Smith and others for an informative and interactive breakfast seminar on Friday September 20, 2019. They will discuss tax & estate planning issues for Canadians who own U.S. real estate and investments. They will also discuss foreign account tax compliance, including, FATCA and FBAR required by U.S. persons living in Canada and various methods to surrender U.S. Citizenship.
View all U.S. Personal Income Tax Rates for 2019
The Senate is continuing its study of the private company tax proposals.  On December 13, 2017 the Standing Senate Committee on National Finance issued a study recommending the proposals be withdrawn in favour of a review of Canada's overall tax system.  Failing this, the Committee recommended that the government delay implementation of any of its proposals until January 1, 2019 so there can be "meaningful consultations".  Ironically, on the same day, the Minister of Finance released the government's revised income splitting legislation (11 pages instead of 27).  The new legislation was released just after the house recessed for the Winter break but became effective January 1, 2018.  That's 18 days after they were released and while the House was in recess. These rules, as well as other proposals including the passive income proposals were tabled in the Budget Implementation Act on March 21, 2018
Peter Weissman appeared before the Senate Committee on National Finance, on May 2, 2018, to express his thoughts about the tax aspects of the Budget Implementation Act and shed light on some serious observations and concerns.
Peter's testimony can be viewed here.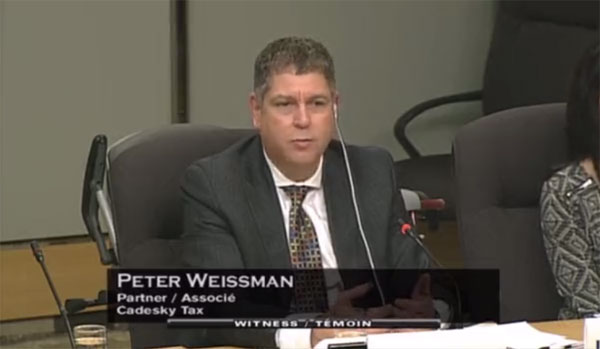 The entire hearing with the questions from the Senators and the panel's answers can be found on the Senate of Canada ParlVU website.
View Peter Weissman's comments to CTV about the Government's December 13, 2017 Amended Income Splitting Proposals.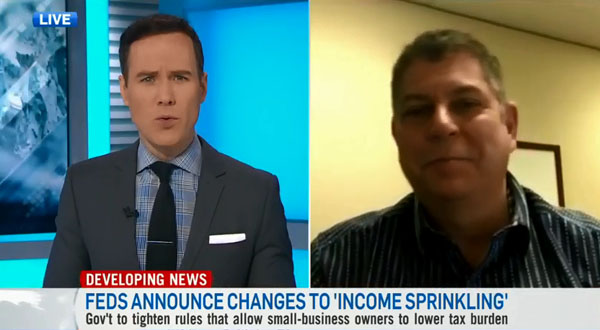 View Peter Weissman's comments about the December 13, 2017 Senate Report on the Government's Private Company Tax Proposals.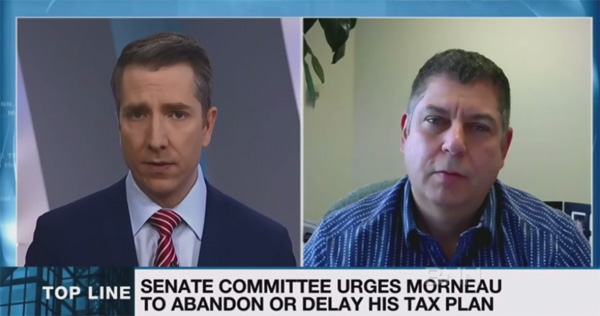 With the October 2, 2017 consultation deadline now past, the government has received over 20,000 submissions concerning their July 18, 2017 private company tax proposals. We, as a firm, did not make a formal submission but responded in other ways. Michael Cadesky was heavily involved in STEP Canada's submission to the Minister of Finance, Peter Weissman was invited to speak to the Commons Standing Committee on Finance, Ian Pryor spoke to the Standing Senate Committee on National Finance and we wrote numerous newspaper articles.
It seems the Government has acknowledged the public's concerns. On October 3, 2017 the Department of Finance issued a Press Release stating:
The Government has listened to small business owners, professionals and experts during the consultation on tax planning using private corporations, and will act on what it has heard…..
We are hopeful that these statements confirm that the Government will significantly scale back the scope and complexity of its proposals. There has been no commitment from the Government regarding the timing of release of any new proposals. Without further comments from Ottawa, there remains uncertainty regarding what steps should be taken in 2017 to optimize taxes before any new rules come into force.